Chiropractor Landon Taylor D.C.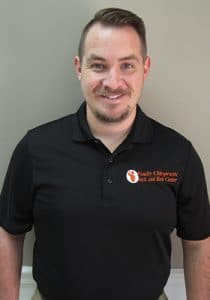 Dr. Landon is a 2009 graduate of Palmer College of Chiropractic. He grew up in Taylor Mill, KY and is married to Alicia with two dogs (Riley & Olivia). He is a huge sports fan and enjoys going to sports events and spending time with his wife and dogs. He also enjoys watching movies.
"I became a chiropractor to help people feel good, there is such value in that. I want people to achieve things they want to. I don't want pain to stand in their way.
My favorite aspect of our practice is the fact that the entire staff really cares about the patients and each other."
Dr. Taylor is a member of the Kentucky Association of Chiropractors.
Monday
9:30am - 6:00pm

---
Tuesday
9:30am - 6:30pm
---
Wednesday
8:00am - 1:00pm
---
Thursday
9:30am - 6:30pm
---
Friday
9:30am - 6:00pm
---
Saturday & Sunday
Closed